FAQs
Ask us anything
Need something cleared up? Here are our most frequently asked questions.
Frequently Asked questions
Everything you need to know about the services
The tablet is a means to impart or share knowledge with our students. It is in no way an indication of less writing or reading exercises, or practice. The school will be conducting an orientation programme for parents before the start of the academic year. For more details, please reach out to the school for a one-on-one session.

There is a login portal specially created for parents, that gives them all the details about every student's development and assessment. The information is updated on a regular basis. Each parent is given the login details that can be used to log into the website

Mobile devices are everywhere. Children today are growing up with them and incorporate these devices into almost every aspect of their lives. How can school education be far behind? In a world that is increasingly tech-driven, tablet-based education ensures more personalised, intuitive, and immersive learning for the student. Introducing it early in their life will teach them to use technology more wisely and prudently.

Yes. All our teachers are well qualified and certified by respective affiliate bodies. All our pre-school teachers are certified by the Association Montessori Internationale and our other teachers are certified by the University of Cambridge International Examinations.

At The International School of Thrissur, we are committed to providing the best for our students. Our personalized, activity-based education ensures that the child learns by doing and that lessons are ingrained within them. Our core principle lies in inclusive, holistic, value-based education, thus making every child a socially-responsible citizen and enabling him to face the complex world.

The school has developed an extremely balanced assessment policy that looks into the various skills of a student, apart from writing. The assessments are conducted on an ongoing basis, using various tools and techniques without stressing the student.
The assessments are powered by Cambridge's Centre for Evaluation & Monitoring. They are a leading provider of assessment and monitoring systems including baseline, attitudinal, diagnostic, and entrance tests.

All our buses are equipped with Vehicle Tracking System to allow the parents to track the bus in real-time through an app.

Yes, we provide transport facility and it is mandatory for all students unless personally dropped by the parent. Route maps for all buses will be shared during the commencement of the academic year, subject to change only in special conditions favouring the students but without disturbing the set transport system. Pick up and drop will be through dedicated points only.

To apply, you will have to fill out the registration form, along with all required documents. The school will then reach out to you for the next steps.

At TIST, we believe that each child is different and can achieve more than they thought possible if their uniqueness is recognized and they are given the opportunity to explore it.
Our admission policy adheres to this core value in spirit and promotes a heterogeneous student community. For more details, please visit the Admission Section.
We believe there is no better way to learn than by doing it, which is why we believe in experiential learning. Our approach puts the student at the forefront. We get students involved using various tools for learning, such as experimentation, dramatization, role play, games, discovery sessions, concept mapping, etc., following a child-centric approach.

Yes. This is a worldwide recognized affiliation. Since the number of students opting for the IGCSE curriculum is increasing ever day, we have synchronized the exam calendar to match that of most Indian schools.

The IGCSE programme has worldwide status and credibility. It is recognised in India by the Association of Indian Universities (AIU) as being at par with CBSE, ICSE, etc. Worldwide, it is delivered in schools in over 140 countries and is recognised by colleges and universities everywhere, more so in the UK and other Commonwealth countries.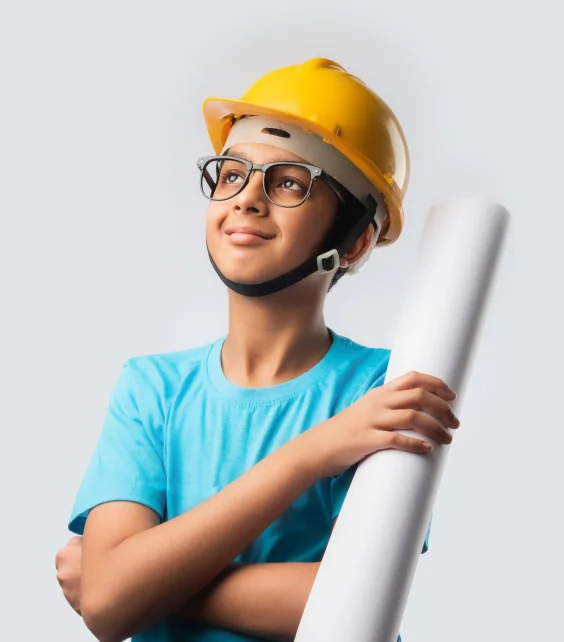 Help them To Reach
New Heights
Give your child the gift of a learning experience that brings out the best in them. A world-class education with global pedagogy awaits them at TIST.
Enroll With TIST